Complete proposals will include (2-page narrative):
Project description
UMBC Interdisciplinary CoLab focuses on telling research-based stories to multiple audiences through multimodalities. Therefore, the project description should include the following information: the type of narrative-based research, the 'data' source, the modality of the public-facing component, and the prospective audiences. Remember that the program timeframe is limited. Projects must be completed by undergraduate students working 30 hours per week within a 4-week period.
Required skills and resources
Describe the minimum technical skills and content knowledge the student team will need to successfully complete the research project and final product. In CoLab interdisciplinary teams, individual students may not hold each of the necessary skills; however, the CoLab Committee will ensure that teams are comprised of students who together hold the requisite skills.
Project Leader(s)
Faculty/staff members hired as Project Leaders work directly with students to guide them through the research project. They will have access to $1000 per project for materials. Their time commitment is comparable to a summer session course (10-12 contact hours per week). Project Leaders must have previous classroom teaching experience. They are paid $5000 for the 4-week session.
If you do not have a Project Leader in mind, the Committee will work with you to identify appropriate candidates.
If you are nominating a Project Leader, please describe their prior teaching experience and how they meet the content and technical skills required to guide the project and the students. (If there are two Project Leaders, they will split the salary and contact hours.)
INTELLECTUAL PROPERTY AND CLEARANCES
Ownership of final projects will be in line with UMBC intellectual property guidelines. By submitting a proposal, you agree to allow the project's final products to be showcased on the UMBC Interdisciplinary CoLab website and allow students to cite the projects in their portfolios.
You are responsible for obtaining any external clearances and licenses necessary for materials included in the project and must follow all UMBC ethical requirements for research and public dissemination.
BEFORE SUBMITTING A PROPOSAL: We strongly encourage you to discuss your CoLab project and its needs with a member of the UMBC Interdisciplinary CoLab Committee. Their information is below.
---
UMBC INTERDISCIPLINARY COLAB COMMITTEE MEMBERS
Carole McCann
Professor and Chair, Gender, Women's, + Sexuality Studies
Special Assistant to the Provost for Interdisciplinary Activities
Co-Director, UMBC Interdisciplinary CoLab
mccann@umbc.edu
Don Snyder
Senior Lecturer, Media and Communication Studies
Co-Director, UMBC Interdisciplinary CoLab
dsnyder@umbc.edu
Rachel Carter
Faculty Lead, UMBC Interdisciplinary CoLab
Postdoctoral Research Associate, Gender, Women's, + Sexuality Studies
rachc1@umbc.edu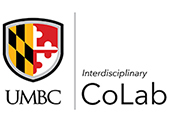 UMBC Interdisciplinary CoLab is a collaboration of the Provost's Interdisciplinary Activities Advisory Committee, the Dresher Center for the Humanities, and Summer/Winter Programs.